Katie lives her life through a joy lens.  Not because her life is perfect.  But because it is fragile and precious.  As a metastatic breast cancer (MBC) patient she lives with immense uncertainty and the prospect of never ending treatments.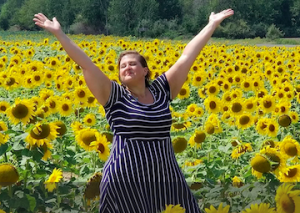 Yet she isn't letting this drag her into darkness.  She chooses to live her life of purpose one day at a time.  Not denying the hard, awful, sad days.  But, by truly living the good ones.  She shares, "Ordinary moments like my son bringing me a cool rock are special. I treasure each day more than most people.  I know each day is a gift."
The reality of MBC is that 115 people die every day from the disease.  Breast cancer isn't a pink party – it's a deadly terror that rips young moms from their families, disproportionately kills people of color and is incredibly dangerous when diagnosed in men.  Only one thing is going to change this – RESEARCH.  That's why we are calling October: Breast Cancer Research Month.   We are committed to shining the pink light on MBC stories and the need for more funding to be directed to MBC research.
Hope Scarves Founder, Lara MacGregor, is launching her new podcast, A Hopeful Life, on Metastatic Breast Cancer Day, Tuesday, October 13th.   Katie is one of her first 4 guests who each share a unique perspective on MBC.  Check it out on itunes, Spotify or where ever you get your podcasts.
You can read more about Katie and follow her beautiful story on her blog, Terminally Joyful.