Iffat is 30 years old and facing Stage IV Metastatic Breast Cancer.  She lives her life over cancer by doing things that help others.  So there is no doubt why she is described by her friends as being courageous and kind-hearted.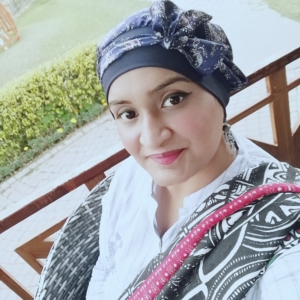 Iffat became connected to Hope Scarves when she read the story that traveled with her scarf.  "It meant a lot to me that someone from the other side of the world was praying for me and supporting me and understood my feelings."  And she would tell anyone thinking about sending a Hope Scarf to friend facing cancer that it is the most precious gift you could do!  "You can't imagine how much a Hope Scarf would mean to your friend.  It simply gives them the courage to fight."
Iffat's favorite quote is "No One is YOU and that is your POWER"
Cancer is hard.  But everyday is a gift to live life over cancer.  Iffat lives her life over cancer by realizing nothing is permanent.  Life is short and it's best to simply be kind to the people around you.
You are beautiful Iffat, and thank you for being our Face of Hope!