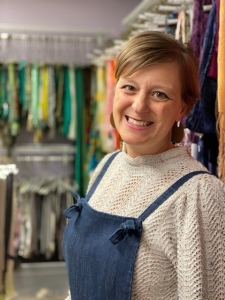 Lara, Founder
The idea of Hope Scarves started as a way for Lara to live life over cancer, and it continues to fuel this passion. She has two sons (only one of which she is still taller than) and jokes that Hope Scarves is her third child. She loves to run, sail, and travel. Lara digs into storytelling and her personal experience facing cancer through My Hopeful Life, an extension of Hope Scarves that includes her film, speaking, blog and podcast.  As the Founder of Hope Scarves and Chief Hope Slinger, Lara focuses her energy on sharing the Hope Scarves story, building partnerships, and fundraising.
Erica, Program Director
Erica was Hope Scarves' first employee, starting when Hope Scarves was located in Lara's spare bedroom. Erica has two boys and is a talented musician. As the Program Director, she helped the scarf collection grow from 10's to 10,000's and is responsible for scarf distribution and collection. Erica oversees the detailed process of sending scarves around the world!
Katie, Program and Volunteer Coordinator
Katie started volunteering at Hope Scarves as a way to support her friend Lara- she was so good we hired her! Katie has three kids and loves glamping and tennis. As Program and Volunteer Coordinator, Katie organizes our awesome volunteers and assists with scarf and story collection/distribution.
Kristin, Community Relations Director
Kristin is responsible for the marketing, public relations, and print and digital communications for Hope Scarves. Her experience as a Licensed Social Worker, keen eye for design, and family experience with cancer prepared her to tell the Hope Scarves story. Kristin has one child and enjoys volunteering and traveling to beach locales in her spare time.
Anna Laura, Partnership Director
Anna Laura joined our staff after years as a volunteer. As the Partnership Director, she manages our nationwide Partnership Program, Ambassador Program and sends promo kits around the world.  For most of her life she was known as Laura, but joining the Hope Scarves staff prompted her to use her given name of Anna Laura to help alleviate the confusion of many Laras, Lauras, and Laurens involved with Hope Scarves.  Anna Laura has two sons and loves to needlepoint in her spare time.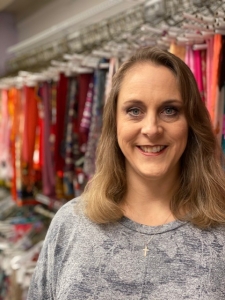 Nanette, Accounting Coordinator
Nanette spends her time with us helping add up our donations and manage expenses. After years of doing the same for her family jewelry business, we are grateful she found a little extra time to share her talents to support Hope Scarves.   Nanette has 2 daughters and 2 sons and enjoys her busy life as the family's schedule coordinator and taxi service.  When she finds extra time she volunteers for many different groups at her church and her children's schools.